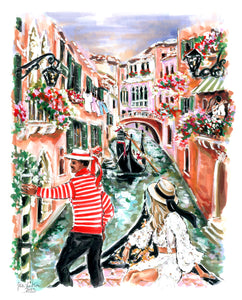 Midsummer Night's Venetian Dream (Original Artwork)
Original artwork of Jen Lublin, titled "Midsummer Night's Venetian Dream, No. 9 in a Series of 8 from the DOLCE VITA DREAMS Collection debut in June of 2023. This whimsical illustration showcases the enchanting vistas of the Venetian canals at sunset against it's old world charm. You will find gondoliers galore and blissful romance abound along the labyrinth of canals and narrow cobblestone streets. This artwork invites you to explore this dreamy city where there are plenty of hidden gems and picturesque delights from every angle!

Artwork size is 8" x 10" on paper; Finished size is 14" x 16" matted. 
Hand-illustrated work using Ink, Gouache and Mixed Media on Acid-Free, Archival Quality, Fine Art Paper. 
Original artwork is signed by the Artist with a Certificate of Authenticity provided. 
Artwork is finished by a Archival ©Bainbridge WHITE Single Mat with core backing.
PROCESSING AND SHIPPING: Each original artwork is ready-made, ready to ship. Please allow up to 3 business days for studio processing and up to 5 business days for delivery of US domestic orders. The Original matted artwork is carefully packaged with core backings and tissue in a structured, protective flat envelope or box.
ALL READY-MADE ORIGINALS ARE FINAL SALE.
**Please note terms of use: all original artwork sales are strictly for PERSONAL USE / ENJOYMENT ONLY (NON-REPRODUCTION). The artist retains digital/commercial rights to the digital file of the original artwork. All original artwork sales are not to be altered or reproduced by anyone other than the artist. They may not be used in any capacity other than for personal display or gifting with the same intended purpose. 
All originals sold as ready-made are non-customizable completed works. Thank you.